June 2001
August 2001

FRONTIER FOOTPRINTS

---
Vol 7, Issue 1; 1 JUNE 2001
YOUTH WITH A MISSION (YWAM) FRONTIER MISSIONS
TO KNOW GOD AND TO MAKE HIM KNOWN,
TO BOLDLY GO WHERE NO ONE HAS GONE BEFORE!

---
"I LOOKED FOR A MAN AMONG THEM WHO WOULD BUILD UP THE WALL AND STAND BEFORE ME IN THE GAP ON BEHALF OF THE LAND SO I WOULD NOT HAVE TO DESTROY IT, BUT FOUND NONE" (Ezekiel 22:30)
---
Hello from Brooke's Point Palawan! Hope you are well!

This must have been devastating for the Lord to find no one that would stand in the gap on behalf of the land. What are we to do? My Brothers & Sisters in Christ, this is a challenge for all of us. Is the Lord going to continue seeing no one to stand in the gap before Him? Can we call ourselves people of the gap?

CHURCH PLANTING: Praise the Lord our 2 pastoral trainees finally finished their 4 months classroom training and are now doing their internship back in their respective tribal areas for the next 8 months. Their pastors: Pastor Federico for Nedyo and Pastor Chris for Ruding will supervise them, providing opportunities to implement what they have learned. (Ruding will do his outreach in Binugsukan, Punang)

(Nedyo is in Sitio Babanga helping Ptr Federico with their house church. There is a strong resistance to the Gospel in this place.)

We now have 8 tribal pastors reaching out to the Palawanos: Federico, Risnain, Renee, Nedyo, Abancio, Chris, Efren, and Ruding. We also have one missionary tribal pastor (Narciso) reaching out to the Palawanos to the far south of Palawan in Sitio Malitub, Rio Tuba. Please continue to pray for them, for endurance, wisdom, strength, creativity, safety, and for the fire in their hearts to continue burning. Pray for Babanga & Rabuk (Outreaches of Kilala) for the softening of the hearts of the people and for the right strategy.

Next month, we will have our 3-day Annual Tribal Pastors Seminar entitled: "Giving Glory To God". YWAM Tribal Pastors from Palawan are invited for this seminar plus fellowship. Please pray that everything will be organized and that the pastors will go home fully fed spiritually, and ready to evangelize the world.

CHILDREN AND YOUTH MINISTRY: - Literacy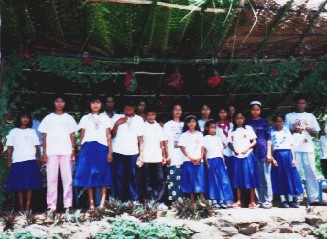 47 Students graduated from Kilala and 15 from Jambangan

Thirty-one (31) students from Kilala came down from the village and took a placement test last August 2000 and 14 qualified for 2nd grade and the rest qualified for 1st grade. We are really excited for them. We are encouraging them to go to a formal school, but since the school is too far (5 Kms walk to the Poblacion), they opted to stay at the mission school. Now we are teaching up to the 3rd grade.

We were just offered a formal DECS Extension School in Kilala. This is a Praise the Lord. We've been waiting over 4 years for the DECS School Superintendent to offer this to Kilala!

- Tribal Youth Camp

Tribal youths from YWAM southern Palawan came and spent a whole week of praise & worship, games, Bible drill, Bible quizzes, listening to the Word, watching Christian films, revival, fellowship, leadership training, etc. Since this is also an evangelistic camp, the youth members were encouraged to invite unbelievers.

(YWAM Tribal Youth Camp @ Brgy Oring-Oring)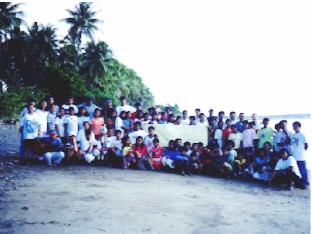 This year 9 youths accepted the Lord and were baptized in the Sulu Sea.


(Here one youth is preparing to be baptized by Pastor Federico and Nedyo.)

They were really excited and on fire for the Lord when they went back to their respective places. Through the National Youth Missions Congress held in Manila last Dec 2000, we were able to expose 5 young people from this meeting to the tribal ministry and they were blessed and also on fire for God. Follow-up reports from pastors on the youths attended stated better church participation and now they had a better relationship with God. Hopefully & prayfully they would be involved in missions.

(Evelyn, a YWAM co-worker lecturing @ youth camp)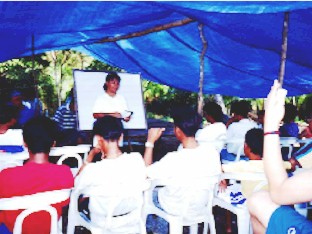 (Our Youth Camp Tribal Pastors)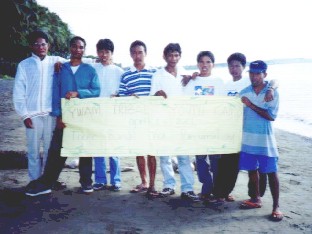 - Daily Vacation Bible School (DVBS)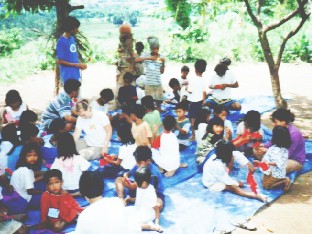 We did DVBS in 2 tribal locations during the daytime and in the evening we did film ministry. About 100 children attended as a YWAM DTS Team of 8 people from Baguio City came and helped us out as part of their outreach exposure and training trip.
- Brooke's Point Street Children Ministry (Big Brother/Big Sister Program):

Brooke's Point has 3 squatter areas and many children from these areas just roam the streets, not going to school and most haven't experienced the love of God. The Lord impressed our hearts to reach out to this group with the help of the Youths from the Brooke's Point Ministerial Fellowship.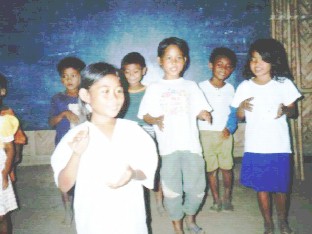 FILM MINISTRY: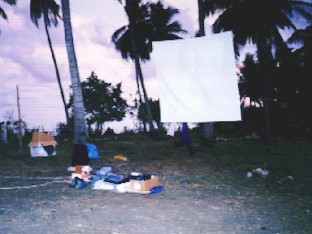 Films are the best tool in reaching out to people that don't want to be reached. There's something about it that brings people out even from the next mountain. We have used this ministry as part of our evangelism efforts, very effectively.

MERCY MINISTRY: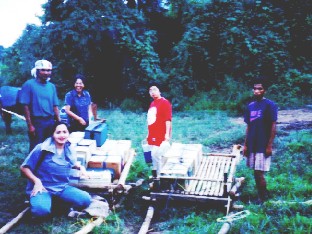 We continue with the Medical/Dental Mission this year and we were able to provide care to 239 medical patients & 49 dental patients in 2 tribal areas over 2 days. We had 2 dentists from Laguna & Pampanga to help us this year.

Our dentist from Laguna is our niece. Praise God for His faithfulness.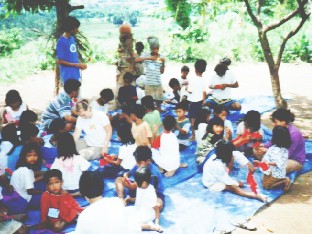 MINISTERIAL FELLOWSHIP:

(A fellowship of pastors from 12 local churches united to reach the lost and the unreached)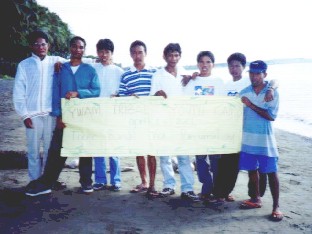 We continue to teach the Police Department and government employees on moral values and holy living. We're encouraging pastors from other municipalities to also unite and form their own fellowships for the expansion of the kingdom of God through unity & cooperation and not just the kingdom of churches here on earth. We're also mobilizing churches through the Mission Awareness Program to reach out to the unreached people groups around us. We are also starting a local Radio Program.

(The Brooke's Point Ministerial Fellowship)


Please pray for all these activities and for the continued unity among the pastors and local church leaders in Palawan.

OTHER MINISTRY IN REACHING THE UPG's:

(Picture of 300 Muslim men kneeling & praying to Allah, where Rick taught conversational English)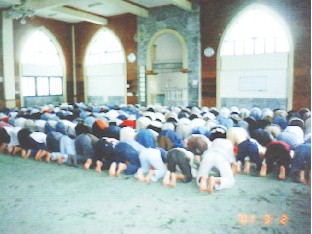 Question: What more can we do to make every tongue and nation praise the Name of Jesus? How are we going to reach these people?

Since Rick is a TESOL (Teaching English to Students of Other Languages) instructor, he went to Baguio City for 1 month and taught 2 Muslim brothers from Yemen, 1 from Russia, & 1 from Comoros how to speak their conversational English better. No, Rick did not share the Word of God with them, but they saw the love of God in action through him. Since then many E-Mail conversations have taken place on religion, comparing the Qur'an & the Bible. The most interesting and challenging are trying to explain the Trinity!

So many opportunities to serve God and we are thankful to the Lord for trusting us in these ministries. Continue to pray for us. Our family is divided right now in 2 places. Rick and the kids live in Puerto Princesa City (PPC) on weekdays and come home only on the weekends. This is because the kids need a better education, so we decided for them to go to school at PPC. They are in the ACE Program. Betty stays home to continue with the ministries at Brooke's Point.

ANSWERED PRAYERS:

1. Formal DECS School in Kilala starts this month!
2. Water System Project starts in Kilala after 5 years!
3. Chris & Hannah started High School in Puerto.


PRAYER REQUESTS:

1. Our family's health. Betty & Hannah were both admitted to the hospital for physical problems this May & Jun 2001. Hannah for dehydration and Betty for a heart problem.
2. For Betty as she needs physical strength and wisdom in preparing lessons and programs for the Tribal Pastors Seminar 3-6 Jul 2001.
3. For Margie as she finishes her DTS soon.
4. For Rick, Chris, & Hannah as they travel between Puerto Princesa City (200 Kms north) and Brooke's Point for the kids to attend new schools.
5. A new domestic helper to work with us here in Brooke's Point
6. Hostages taken on 27 May 2001 by the Abu Sayaff will be released soon!
7. Pray for an overcoming Church: An estimated 438 Christians are martyred every day or about 160,000 each year are killed for their faith in Christ.
8. Whether you write, E-Mail or E-Text; please remember to pray for us daily. We are very aware we are 12,000 miles from home!
*************************************
Hope you and your family are well during this Summer Vacation time!

We pray that God's abundant grace be upon you as you work, as you travel, and as you go about your life's activities.

If you have questions, don't understand, or need clarification on what we are doing and why we are here, write and we would be glad to explain more to you. Send us your E-Mail Address for monthly updates. God bless all of you and thank you for partnering with us in prayer & finances. We love you all! May You Be Blessed To Be A Blessing! Betty, Rick, Chris, & Hannah ******************************************** Write us when you can: Jessmil Subd., Buligay 5305 Brooke's Point Palawan, Philippines E-Mail: caseyr_b@mozcom.com E-Text: 063-0918-913-8920 Exposure Visits: Upon request.

August Newsletter
Frontier Footprints in the Sand




Hello from the troubled Philippines, where kidnaping for ransom is not uncommon!

The Casey's are doing fine. Betty's health is improving after some heart problems in May & Jun of this year.

Chris & Hannah are productively engaged in their school work here in Puerto Princesa City, 200 Kms north of where Betty is ministering with our tribal pastors and children street ministry in Brooke's Point.

We decided some time ago that we should try harder to secure a better educational standard for Chris & Hannah, which we are doing now. The problem is we live away from Betty, but see her a couple days each week. Not idea, but workable. We are being driven by what a Missionary Mom said to us in Aug 1999. She said they have never regretted sacrificing for their children's education! This got burned into our hearts and we are willing to follow her counsel even though it is hard at times.

Martin & Gracia Burnham, two American New Tribes Missionaries, are still being held hostage since their 27 May 2001 abduction just 15 Kms north from where I (Rick) am writing to you. The US Embassy in Manila said their hands are tied politically and can do nothing to help free them! They are in day 69 as hostages.

Betty will be attending with our Philippine Director of Frontier Mission the International Frontier Mission Leadership Team (IFMLT) meeting this month in Tel Aviv, Israel. Leaders in Youth With A Mission (YWAM) from all over the world will be attending to discuss evangelism and church planting among the unreached peoples of the world, primarily in & around the Indian Ocean Gateway and inside the 10/40 Window!

PRAYER REQUESTS:

1. The release of Martin & Gracia Burnham from their Muslim captors.

2. For Betty's health to continue to improve and for her F/U appointment with her Cardiologist in the next week to go well.

3. Betty's trip to the YWAM IFMLT meeting 21-26 Aug 2001.

4. Our family, ministry work and our teenager's schooling.

5. The political, economic, and social bondage here in the Philippines to be broken. The Philippines is the only Christian nation in this region, but there are many internal problems within this country.

May God Continue To Bless and Protect You!

In Christ's Love,

Betty, Rick, Chris, & Hannah